Nothing is More Powerful Than a Made up Mind
| | |
| --- | --- |
| Posted on 1 May, 2017 at 13:20 | |

Last week, I was playing inFAMOUS 2 and I got the idea to take a different approach to social media market myself as an inspirational speaker by creating a User Generated Content (UGC) mission. Within the mission, Cole finds out that he inspired somebody who is a two-time cancer survivor and hip amputee.
Cole finds his best friend Zeke, and asks if he heard about this guy he inspired. Zeke told Cole he has heard of him also, and heard the way Cole dealt with being forced to controlling electricity in Empire City was the same way he dealt with being forced to have knee cancer.
Cole stated that it's cool how a superhero video game character like himself could inspire somebody in the real world. Zeke got some intel from one of his boys and found out the guy's name is Darryl. Zeke said he spoke to Darryl already, and told Cole he's legit.
Zeke told Cole that he could find Darryl on his roof, and Cole said thanks and headed to Zeke's roof, but not before defeating some enemies on the way. After defeating the enemies, Cole finally met Darryl and sizes him up because he's not sure if he could trust him because in the past his own best friend (Zeke) betrayed him.
While Cole is sizing up Darryl, he said "So what's the story?" How did I inspire you? Darryl explained everything he was going to tell Cole is 100% true. Darryl went on to explain the darkest days of his life, which consisted of having cancer twice during his high school years from 1999-2003, and he became a hip amputee when doctors insisted if he wanted to live, his right leg would have to get amputated.
Cole was distraught and couldn't believe all that happened to him in such a short amount of time, but Cole still wanted to know how he inspired Darryl. Darryl went on to say that Cole's story changed his life for the better because he found somebody he could relate to.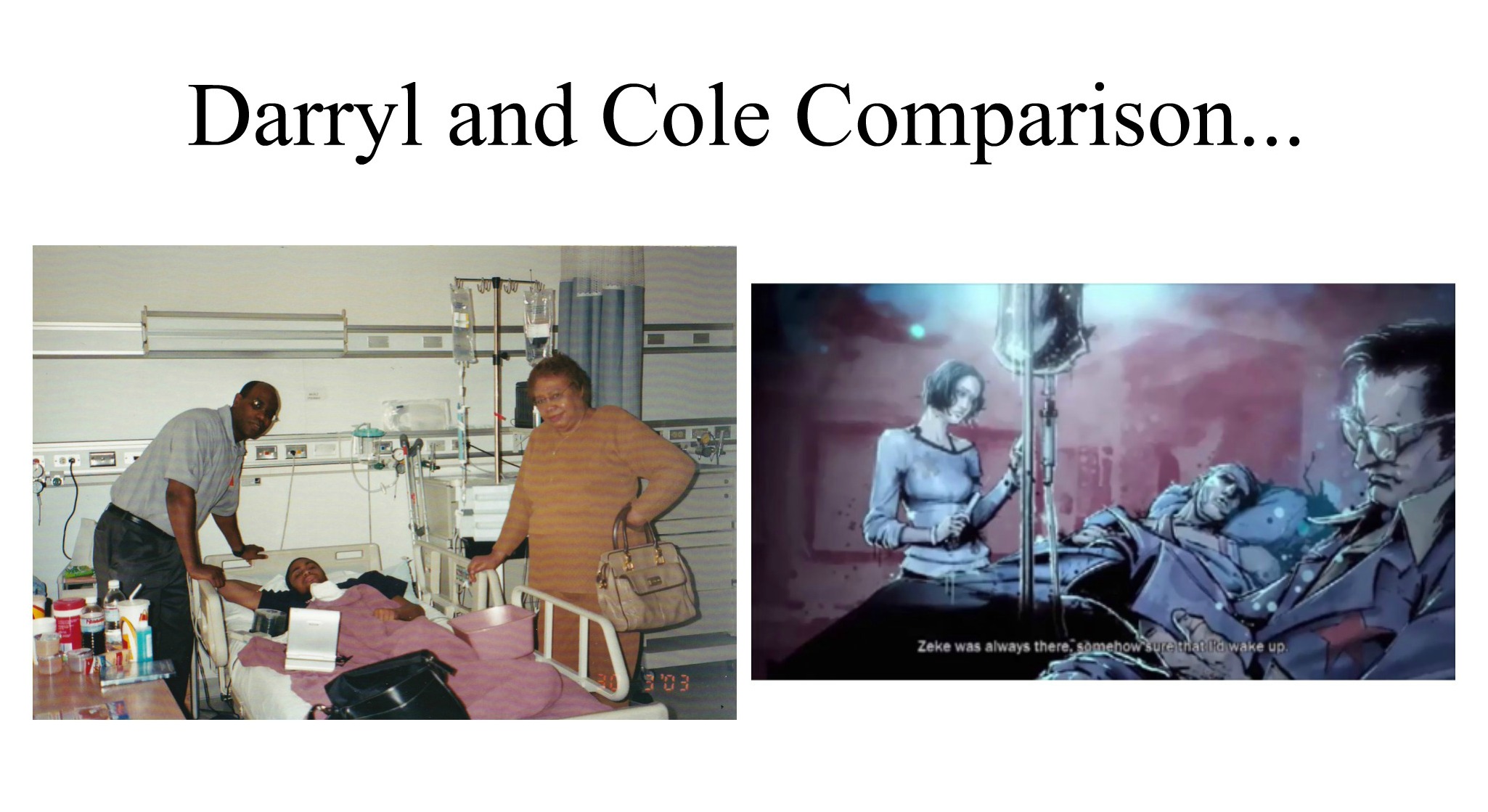 Cole needed more information, and Darryl asked Cole if he remembered when he was in the hospital hooked up to an IV pole with Trish and Zeke by his bedside. Cole said yes of course, and Darryl continued to say when he was 14 years old, he was also in the hospital hooked up to an IV pole with his Grandmother and Uncle by his bedside.
Cole said, "No way!"
Cole quickly understood where Darryl was coming from and realized they both were forced to overcome similar adversities. Cole also said he was happy to find out of all the people in the world, he was the person who inspired Darryl to move forward with his life.
Darryl explained to Cole in 2013, he decided to become an inspirational speaker and later an author. Darryl's speeches are about his experiences and realities with cancer, being a hip amputee and he connects that to Cole and how he overcame his adversities.
Cole said, "That's amazing!" and claims he may be the first and only video game character that is a part of an inspirational speech, and he was going to pass the word to his creators: Sucker Punch Productions.
Darryl asked Cole to pass on a message to Sucker Punch, stating that he wanted to thank Sucker Punch for creating Cole, who is an ordinary person, but still able to overcome extra ordinary adversities.
Cole said he would be more than happy to do that, and he was going to be looking forward to hearing and reading how he inspired Darryl through his speeches and book.
Everything within this UGC mission "Digital Inspiration of Cole MacGrath" is 100% true, and I wanted to display my creativity through the visuals of inFAMOUS 2.
The inFAMOUS videogame franchise and Cole MacGrath had a positive on my life and I want to share my pain, struggle and accomplishments with the world. I also want to say thanks to all the fans of the original inFAMOUS videogames and for keeping Cole's legacy alive.
My goal is to inspire teenagers and young adults with my story of being a two-time cancer survivor.
My speeches are about connecting my experiences and realities of being a two-time cancer survivor and hip amputee to the digital world of the inFAMOUS videogame franchise and Cole MacGrath.
"When you feel passionate about something, follow your instincts because Nothing is More Powerful Than a Made up Mind." – Darryl C. Richie
To check out my inFAMOUS 2: UGC: "Digital Inspiration of Cole MacGrath" mission, click here: https://www.youtube.com/watch?v=8Ghb9JRwQ1A&t=2s
Disclaimer…
I do not own any image or video content from the inFAMOUS 2 videogame.
No Copyright Intended. All video content is copyright to their respective owners. All content is property of Sony Computer Entertainment America (SCEA), developed by Sucker Punch Productions.
Categories: None
/