Nothing is More Powerful Than a Made up Mind
| | |
| --- | --- |
| Posted on 21 April, 2017 at 14:15 | |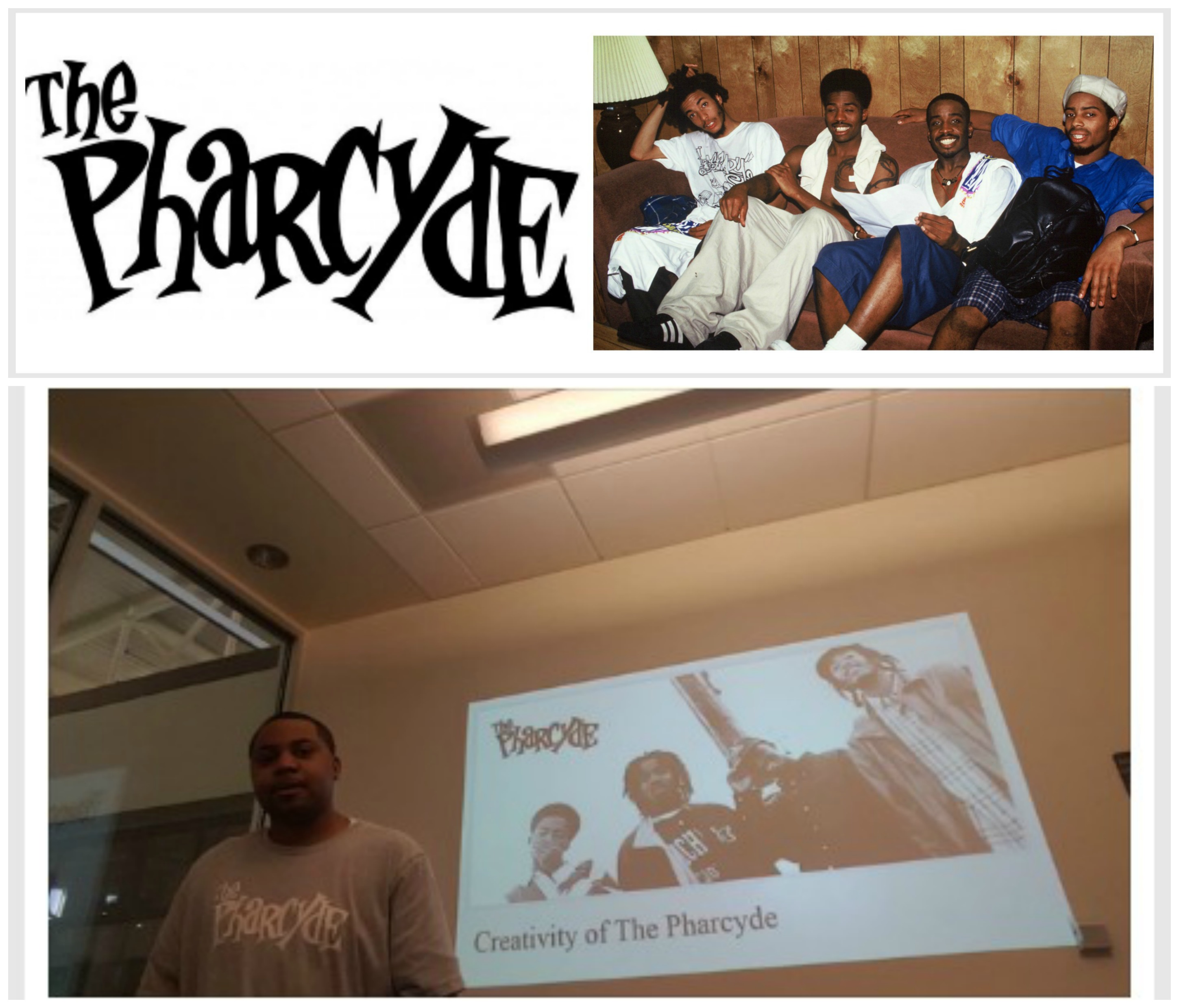 On April 19th, I completed my fifth advanced manuals speech (15th speech overall) for Toastmasters at CSUSB. My speech objective was to bring history to life, and I chose to pay homage to my favorite Hip-Hop group, "The Pharcyde." My speech was entitled, "Creativity of The Pharcyde," and I chose to speak about the history of The Pharcyde because of my personal connection with the group after I first heard their "Labcabincalifornia" album in 2008.
The Pharcyde consists of four members: Imani, Bootie Brown, FatLip and Slimkid Tre. They all are from Los Angeles, CA, and were prominent in the 90s.
Imani, Brown and Tre met as dancers in the late 80s, and as a trio, they danced on the show "In Living Color" in the 90s. FatLip was also preforming at this time and hooked up with the others and joined the group in 1990.
"The Pharcyde" name is an acronym for B.O.T.T.T.O.S (Break on Through to The Other Side), which means the further you go, the better it is. Under mentor Reggie Andrews, the group learned the in's-and-outs of the music industry and the process of recording an album.
They eventually landed a record deal with Delicious Vinyl in 1991, and in 1992 they released their debut album, "Bizarre Ride II The Pharcyde," which went gold. The Pharcyde instantly became a household name in the world of Hip-Hop.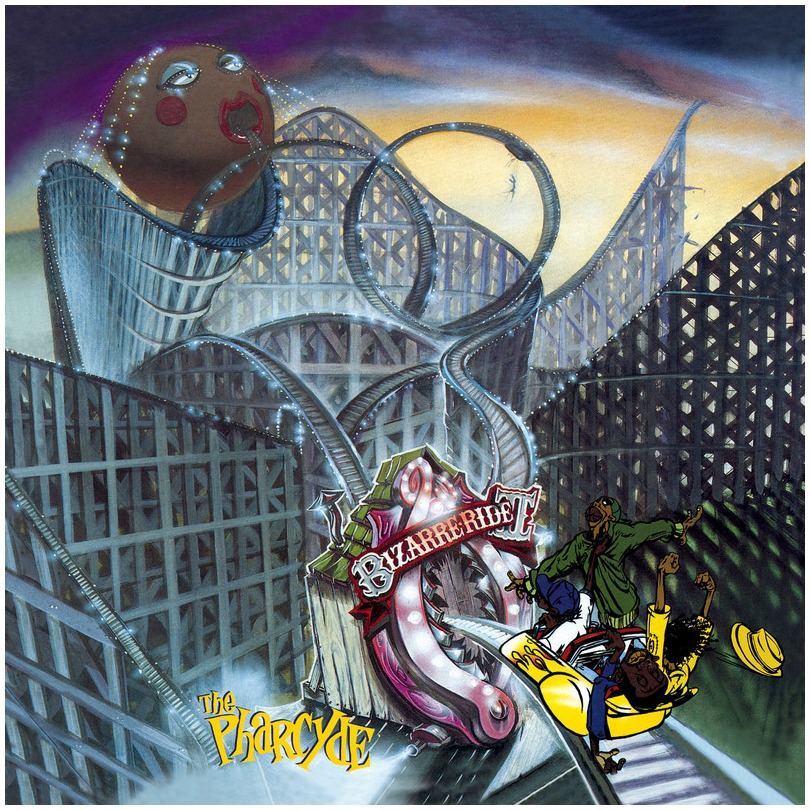 "When many MCs and rappers were striving to 'keep it real', The Pharcyde instead went out of their way to 'keep it original."
- Robert Dimery, Pitchfork Media
In 1995, The Pharcyde released their second album "Labcabincalifornia," which was a lot more laid back compared to their debut. According to Tre, they wanted to make their version of A Tribe Called Quest's "The Low End Theory."
Labcabincalifornia didn't sell as well as their debut, but is now considered a classic by critics and fans.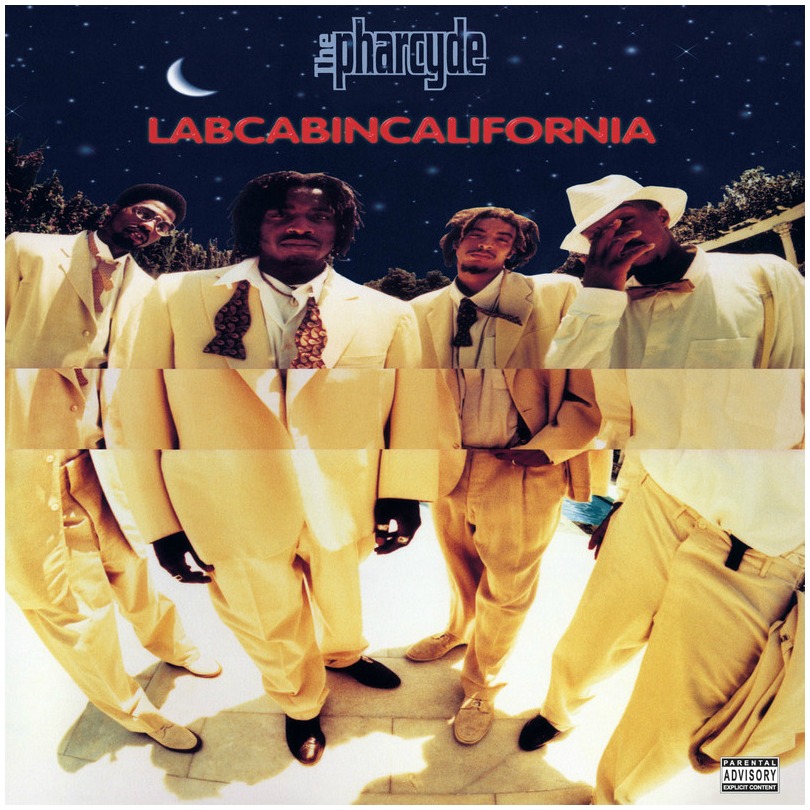 "I don't think it's that they slept on it, they were just expecting a sound like Bizarre [Ride II] and we came out with something different. But after people actually listened, they felt it and vibed to it and now it's considered a classic."
- Bootie Brown, The Pharcyde
During the recording process of Labcabincalifornia, the group went through some creative differences and FatLip was kicked out of the group and he pursued his solo career. The Pharcyde was back to being a trio and released Plain Rap in 2000. With Plain Rap, it was noticeable that their circle of four was broken because FatLip was absent from the album.
Shortly after Plain Rap was released, Tre left the group to pursue his solo career leaving Imani and Brown to carry on the torch as The Pharcyde. Imani and Brown released their album entitled, "Humboldt Beginnings" in 2004.
During this time, Imani and Brown performed shows as The Pharcyde and according to Imani, the world looked at them like: "What did you do to FatLip!, what did you do to Tre!." Imani explained this was a dark period for him because fans didn't know the whole story of why the group was divided with Imani and Brown performing together and FatLip and Tre performing together.
The last time The Pharcyde performed together as a four-man crew was in 1997.
The 2008-2009 school year was a time of transformation for me because it was the first time I moved out of my parents' house and transferred to finish my undergraduate studies at California State University, Long Beach (CSULB). Sucker Punch's original inFAMOUS was released and The Pharcyde became my favorite Hip-Hop group after hearing Labcabincalifornia.
I became a fan of the group at the perfect time in 2008 because I got to see a reunited Pharcyde perform at Rock the Bells in San Bernardino, CA.
The reunion was short lived because they broke up again. In an interview with Imani, he said the group should have come out with an album first, then joined the Rock the Bells roster. He explained Rock the Bells was like a magic wand because while on tour, they made a lot of money.
While on tour in New York, The Pharcyde was headlining a show with Jay-Z and A Tribe Called Quest, and FatLip decided he didn't want to rap anymore.
Now The Pharcyde was back to being a trio again, and shortly after FatLip's departure, Tre left the group. They were split again with Imani and Brown performing as The Pharcyde, and FatLip and Tre performing as Bizarre Ride with other affiliates.
The Pharcyde is the most underrated and underappreciated Hip-Hop group because they have the most talent that never got a chance to reach their full potential. In my opinion, there is no other Hip-Hop group that could rap, sing, dance and produce their own music better than The Pharcyde.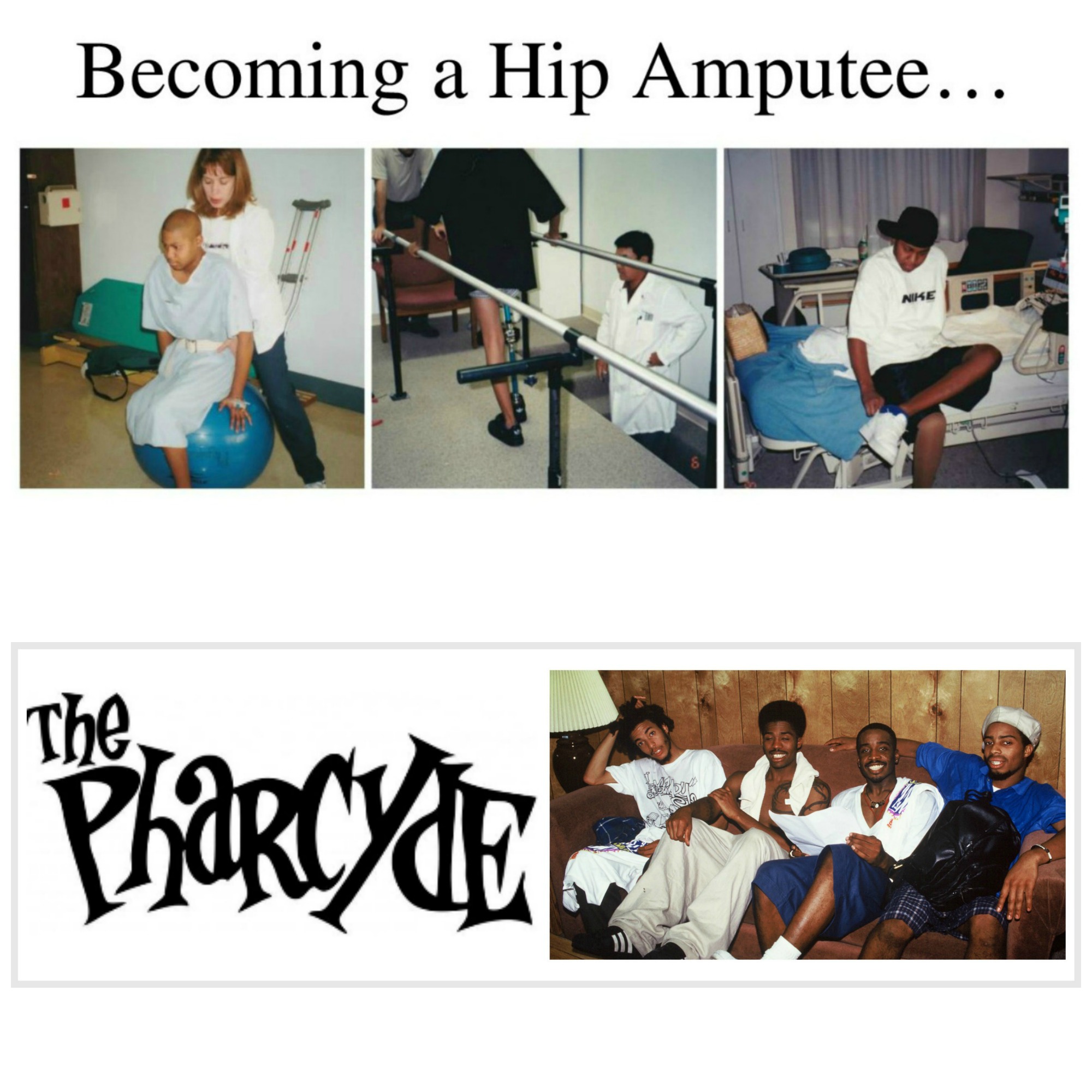 In 2017, The Pharcyde is still divided and one of my goals as an inspirational speaker is to help bring the group back together by showing them how much they helped me within my personal life after I became a hip amputee.
Within my CalmandStrong PowerPoint Presentation: Part 1, I have The Pharcyde's "Clouds" and "Runnin'" songs embedded. Along with Nas, The Pharcyde help tell my story through their inspirational lyrics.
To check out my CalmandStrong: Creativity of The Pharcyde Speech with PowerPoint Presentation Video on my official CalmandStrong YouTube channel, click here: https://www.youtube.com/watch?v=6S_VUESqBKk&t=2s
To check out my CalmandStrong PowerPoint Presentation: Part 1 on my official CalmandStrong YouTube channel, click here: https://www.youtube.com/watch?v=JjgBAHrY-9M&t=1s
My evaluator liked how I created a collage of Pharcyde music videos (that were silent) playing in the background while I was speaking, and she liked how I was representing The Pharcyde wearing their t-shirt while speaking. She also pointed out that I did an excellent job speaking about the timeline of events that happened throughout the group's career, and how I connected my experiences and realities of being a hip amputee to the inspirational lyrics of The Pharcyde.
Even through my speech and PowerPoint was very creative, my evaluator said having the collage of music videos playing in the background while I was speaking took away from my speech. She said the audience was more focused on my PowerPoint than the words I was saying. She also said I could've did a better job developing the personalities of each member and how they felt when they broke up.
I received an overall positive reaction and response from the audience while I was speaking about my favorite Hip-Hop group.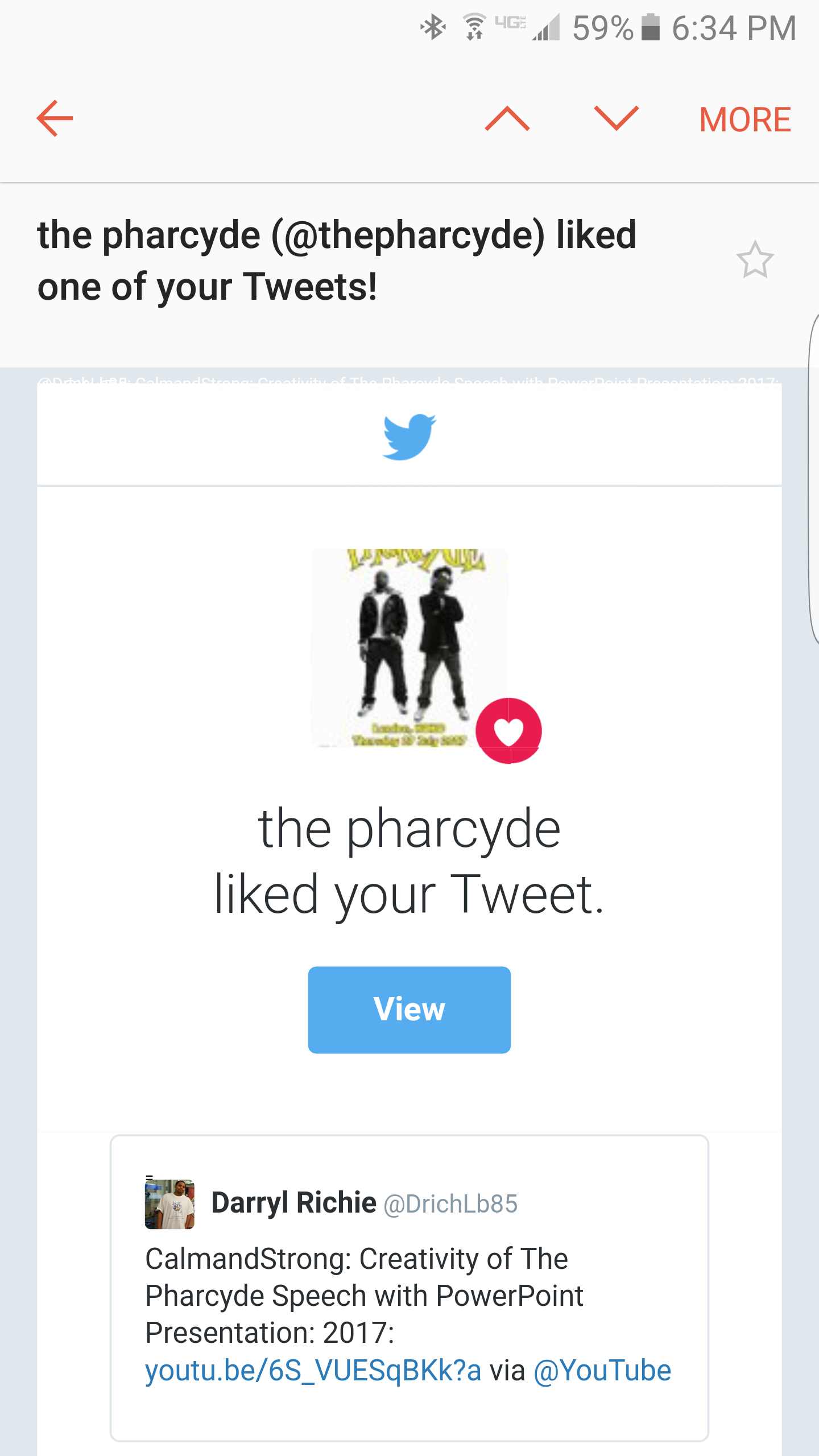 I posted my CalmandStrong: Creativity of The Pharcyde Speech Video on YouTube and I put a link on Twitter on April 20th, and @ThePharcyde (Bootie Brown) liked my tweet!!! I'm appreciative one of the members from the group took the time to check out my speech video.




Peace & Love to the Westside Tribe: The Pharcyde.




To check out how The Pharcyde, along with Nas and Blu & Exile helped me believe "Nothing is More Powerful Than a Made up Mind," click here: http://www.calmandstrong.net/music




To check my official CalmandStrong YouTube channel, click here: https://www.youtube.com/channel/UCow7_Ahq_1huNK98fONfmDQ




 




* On April 18th, I signed up to attend the Relay for Life held by the American Cancer Society. Funds raised support cancer patient programs and groundbreaking research that can help save lives. This event also celebrates over 15.5 million cancer survivors nationwide. 15.5 MILLION. That's huge! I'm going to attend on April 29th at Victor Valley College.




* I had a doctor's appointment on April 20th, and with my prosthetic leg on, I weigh 159 lbs. (which is good for being 5'8";). My blood pressure was also good and as of 2017, I'm 14 years' cancer free and I was 14 years old in 1999 when I was first diagnosed with cancer.




* On April 20th, I also made an appointment with Hanger Prosthetics and Orthotics to get the process started of getting a new prosthetic leg. It's been a while since I had a new prosthetic, and I'm excited to see how much hip amputee prosthetics have advanced.













Disclaimer…




I don't own any image or video content from The Pharcyde. No Copyright Intended. All image and video content is copyright to their respective owners. All rights go to The Pharcyde.




The Pharcyde image courtesy of Delicious Vinyl.




The Pharcyde Image. Digital image. Delicious Vinyl. Delicious Vinyl, n.d. Web. 17 Mar. 2017. http://deliciousvinyl.com/artists/the-pharcyde/




The Pharcyde Bizarre Ride II The Pharcyde, Labcabincalifornia, Plain Rap and Humboldt Beginnings album images courtesy of Genius.




Bizarre Ride II The Pharcyde and Labcabincalifornia . Digital image. Genius . Genius , n.d. Web. 10 Apr. 2017. https://genius.com/artists/The-pharcyde




The Pharcyde image courtesy of Fandom.




The Pharcyde Hip-Hop Wikia. Digital image. Fandom . Fandom.wikia., n.d. Web. 10 Apr. 2017. http://hip-hop-music.wikia.com/wiki/The_Pharcyde




Bootie Brown quote retrieved from Wikipedia.org. https://en.wikipedia.org/wiki/Bizarre_Ride_II_the_Pharcyde




The Pharcyde logo image courtesy of Ticketweb.




The Pharcyde Logo. Digital image. Ticket Web. Www.ticketweb.com, n.d. Web. 10 Apr. 2017. http://www.ticketweb.com/t3/sale/SaleEventDetail?dispatch=loadSelectionData&eventId=6691785




Pharcyde's Uncle Imani Interview courtesy of HipHopMaverick from YouTube.com.




Pharcyde's Uncle Imani Interview Pt. 1. Perf. Imani . Pharcyde's Uncle Imani Interview Pt. 1. Www.YouTube.com, 21 Oct. 2010. Web. 17 Mar. 2017. https://www.youtube.com/watch?v=CABqCmqNglU&t=114s 




Slimkid Tre Interview courtesy of HipHopDX.




Tardio, Andres. "The Pharcyde's Slimkid3 Recalls Recording "Bizarre Ride," Explains Breakup." The Pharcyde's Slimkid3 Recalls Recording "Bizarre Ride," Explains Breakup. Www.hiphopdx.com, 28 Aug. 2012. Web. 17 Mar. 2017. http://hiphopdx.com/news/id.20931/title.the-pharcydes-slimkid3-recalls-recording-bizarre-ride-explains-breakup#




The Pharcyde's "Drop" music video courtesy of 77ChiefRocka from YouTube.com.




The Pharcyde "Drop". Dir. Spike Jones. Perf. Imani, Bootie Brown, FatLip and Slimkid Tre. The Pharcyde "Drop". Www.YouTube.com, 27 July 2010. Web. 17 Mar. 2017. https://www.youtube.com/watch?v=wQlvSpPuWdo




The Pharcyde's "Passing Me By" music video courtesy of Rodrigo Ignacio Underiapground from YouTube.com.




Pharcyde - Passin' Me By. Perf. Imani, Bootie Brown, FatLip and Slimkid Tre. Pharcyde - Passin' Me By. Www.YouTube.com, 22 Apr. 2011. Web. 17 Mar. 2017. https://www.youtube.com/watch?v=gjc9f5dmgWM




The Pharcyde Otha Fish music video courtesy of VintageHipHopSeattle from Youtube.com.




Pharcyde - Otha Fish. Perf. Slimkid Tre, Imani and Bootie Brown . YouTube. Wwwyoutube.com, 6 Apr. 2012. Web. 10 Apr. 2017. https://www.youtube.com/watch?v=wA0IUwtKwhE&list=LLMoejT60ELLMgWN0HTgdy3Q&index=20




The Pharcyde Ya Mama music video courtesy of talcnturnips from Youtube.com.




The Pharcyde - Ya Mama. Perf. Imani, Bootie Brown, FatLip and Slimkid Tre. Www.youtube.com. YouTube, 4 Oct. 2009. Web. 10 Apr. 2017. https://www.youtube.com/watch?v=ImhN6-9KLTY&index=21&list=LLMoejT60ELLMgWN0HTgdy3Q




The Pharcyde Runnin' music video courtesy of VintageHipHopSeattle from YouTube.com.




Pharcyde - Runnin' (Prod. By J Dilla). Perf. FatLip, Slimkid Tre and Imani . Www.youtube.com. YouTube, 25 Aug. 2011. Web. 10 Apr. 2017. https://www.youtube.com/watch?v=Fr8_JidiptU&list=LLMoejT60ELLMgWN0HTgdy3Q&index=22




The Pharcyde performing Runnin' live courtesy of illyona1 from Youtube.com.




Pharcyde 'Runnin'_ Live in Europe 1996_rare. Perf. Imani, Bootie Brown, FatLip and Slimkid Tre. YouTube. Www.YouTube.com, 1 Dec. 2008. Web. 10 Apr. 2017. https://www.youtube.com/watch?v=CkdqTMlATKs&list=LLMoejT60ELLMgWN0HTgdy3Q&index=17




Robert Dimery quote retrieved from Wikipedia.org. https://en.wikipedia.org/wiki/Bizarre_Ride_II_the_Pharcyde




Robert Dimery (ed.), ed. (February 7, 2006). 1001 Albums You Must Hear Before You Die. Universe. p. 691. ISBN 0-7893-1371-5.




The Pharcyde Performing at Rock The Bells in San Bernardino, CA courtesy of Slimkid3TV from YouTube.com.




Rock the Bells 2008 - The Pharcyde - Slimkid3. Perf. Imani, Bootie Brown, FatLip and Slimkid Tre. Www.youtube.com. Youtube, 6 May 2011. Web. 10 Apr. 2017. https://www.youtube.com/watch?v=TeLHdH7SFjM&list=LLMoejT60ELLMgWN0HTgdy3Q&index=24




Categories: None

0

/